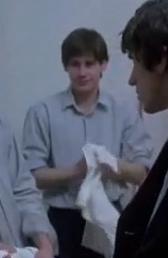 Rhodes
(
George Winter
) is a Welsh
inmate
who often associates with
Jackson
.
He is threatened by Richards and Eckersley after mocking them about their boasts of a 'big job' when they get out.
1977 Version
Edit
In the BBC screenplay, a character called 'Peter Rhodes' is portrayed by Ian Sharrock.
This is largely a different character portrayal, as he has an implied homosexual relationship with Carlin, who dubs him his 'missus'.
A character called 'Sumner', similar to the 1979 Rhodes is featured, played by Colin Mayer.