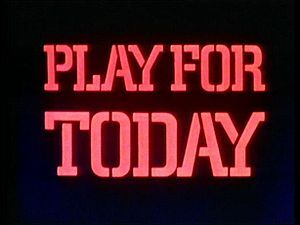 Play for Today was a British television anthology drama series, produced by the BBC and transmitted on BBC1 from 1970 to 1984. Over three hundred original plays, most between an hour and ninety minutes in length, were transmitted during the fourteen-year period the series aired.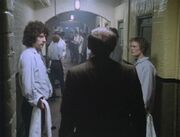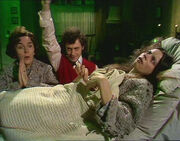 Plays could cover all genres, although comedy was usually reserved for the separate Comedy Playhouse strand. In its time, Play for Today featured gritty contemporary social realist dramas, historical pieces, fantasies, biopics and science-fiction. Most pieces were written directly for television, but there were also occasional adaptations of stories from other media, such as novels and stage plays.
Controversy
[
]
Two plays were controversially pulled from transmission shortly before broadcast due to concerns over their content: these were Dennis Potter's Brimstone and Treacle in 1976 and Roy Minton's Scum the following year. In the case of Brimstone and Treacle it was due to concerns over the play's depiction of a disabled woman's rape at the hands of a man who may or may not be the devil, and with Scum the worry was its supposed sensationalism of life in a young offenders' institution (then still known as a borstal).
Brimstone and Treacle remained untransmitted until it was shown on BBC One in 1987, and Scum until BBC Two transmitted it in 1991. In the meantime, however, both had circumvented their withdrawal by being re-made as films: Brimstone and Treacle was filmed in 1982 with Sting in the lead role, while the cinematic version of Scum appeared in 1979 with most of the same cast and directed by the man responsible for the Play for Today version, Alan Clarke. The film version of Scum was shown on Channel 4 in 1983, when the campaigner Mary Whitehouse instigated a private prosecution, although the Independent Broadcasting Authority had specifically approved the broadcast of the film. The High Court found in her favour, but Channel 4 won on appeal.
The series as a whole was viewed with suspicion by right-wing commentators and critics as many of the issues tackled were the subject of political controversy. Of particular note was the 1978 play The Spongers an ultimately tragic tale of benefit dependency set against the Queen's Silver Jubilee the previous year. This suspicion was lampooned in the TV series The Fall and Rise of Reginald Perrin when Play For Today was listed by Geoffrey Palmer's character 'Jimmy' in his famous "Forces Of Anarchy" diatribe.
See also
[
]

.