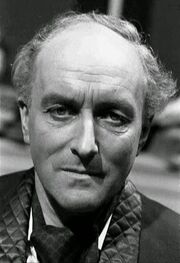 Peter Howell (25th October 1919 - 20th April 2015) was a British actor.
A regular in 1950s television hospital drama series Emergency Ward 10, he also had guest appearances in The Avengers, The Prisoner, and Doctor Who. He famously played the stern, religious borstal Governor in the 1979 film Scum.
He also played the treacherous wizard 'Saruman the White' in the 1981 BBC Radio production of The Lord of the Rings, and was a long-term friend and colleague to actor Sir Ian McKellen, who is godfather to Howell's daughter Tamara. Howell was married to Susan until her death in 1992, and is survived by three daughters and one son.
He was a staunch supporter of the Equity actors union and the Labour party.
Howell passed away peacefully in his sleep on the 20th of April 2015, aged 95, at Denville Hall, a retirement home for professional actors.