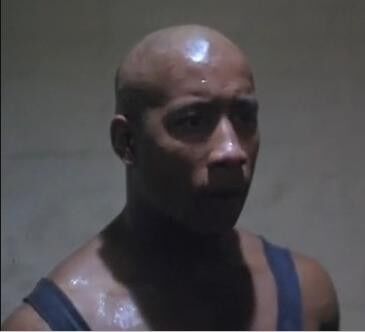 'Baldy' (Peter Francis) is the nickname for the unnamed 'Daddy' of B-Wing block.
A tall and strong looking black youth, he has most of the other black inmates under his control, as seen in the violent 'A Wing vs B Wing' ball game ('Murderball'), when initially there is a complete white-black divide on the opposing teams.
Baldy sends word to Carlin to challenge him for overall control of both wings and the prospects they bring. Carlin agrees to meet him in a boiler house during shovel work time, and despite his size, Carlin manages to catch him off guard with a steel pipe concealed under his jacket; Carlin administers a vicious beating, and forces him to take second place with Carlin giving the orders and gaining the biggest percentage of all takings.
Baldy, now crushed and bruised, has no choice but to agree to Carlin's terms, and is left on the floor in pain as Carlin exits.
Quote
[
]
(To Carlin):"What f***in' tool?...AAAGH, leave it out man!"
1977 VERSION
[
]
Peter Francis portrayed Baldy again in the BBC screenplay version.
He has another appearance in this version. He is seen briefly at the end getting shoved down the borstal's halls by warders along with Carlin, Archer and possibly Betts.
See Also
[
]